About Us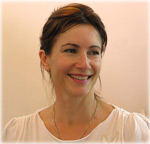 Lindy Ferguson
Director of Waverley Pilates
B.Ed. Dance, Australian Pilates Method Association
Level 3 Instructor, Member no. L3P-06041.
Rebates are claimable from most Health Funds when doing Pilates sessions with Lindy. Please ask you Health Fund for information. Provider No. for: AHM 21072392.
With a rich background in dance and teaching movement Lindy will refine your exercises to create an individual challenge, improving core and global strength and joint mobility. You'll discover a deepening of body awareness, improved postural habits and you'll be more relaxed after a session. Lindy's workouts produce long strong toned muscles with greater efficiently and capacity to heal more easily after sports training or injury.
Lindy uses somatic release techniques from the work of Bainbridge Cohen, John Roland, Feldenkrais. She refers to the work of Tom Myers – Myofascial Meridians, Mary Bond – New Rules of Posture, Eric Franklin – Dynamic Alignment Through Imagery, Al Schrobisch – Muscle Balance Analysis & Pain Relief , Brent Anderson (Polestar) – Counteracting the effects of too much sitting in home, workplace and car.
Lindy is a certified Pregnancy and Post-Natal Pilates Specialist – trained with Carolyn Anthony from the USA who runs The Centre for Women's Fitness.

Pia Moganov
Pia is a Level 4 APMA instructor, Personal Trainer and has worked in the fitness industry for more than ten years with a strong interest in improving posture and core strength. She runs a personal training studio in Glen Waverley and is an innovator and teacher in other fields. Pia has patented a useful piece of studio equipment called the Bacpillow that is a helpful tool for feeling the core muscles especially for beginner clients and those with spinal alignment and neck issues. Rebates are claimable from most Health Funds when doing Pilates sessions with Pia. Please ask you Health Fund for information.
Pia has always had an interest in movement and fitness stemming from her background in classical ballet but her most current focus is in body toning and shaping. As well as this she has had success working with people with scoliosis and rounded upper spine (kyphosis) helping her clients to improve in strength, posture and confidence. Pia has been a snow skiing instructor and has many Pilates and personal training clients that have trained with her for more than eight years. She enjoys helping people reach their personal goals and surpass them.
Christine Moran
Rebates are claimable from most Health Funds when doing Pilates sessions with Christine. Please ask you Health Fund for information. Photo and profile coming 😉
Leigh McKinlay
Rebates are claimable from most Health Funds when doing Pilates sessions with Leigh. Please ask you Health Fund for information. Photo and profile coming 🙂