WAVERLEY PILATES 2022
STUD

IO

 and 

ONLINE

classes
Initial consult $65 (usually $95) and four Small Group sessions $140 (usually $170)
EXCLUSIVE OFFER to February 17 2022
Introduce a friend to create a Duo or Trio – your Initial consult price will be two for one!

Check out what's in Studio and whats new Online below for 2022….
Reformers, Cadillacs, Wunda Chairs and more equipment  …
Bookings
EMAIL for more information or call 0402 666 056

REFORMER  great for buttocks, legs, abdominals, arms, shoulders, back, feet, ankles, giving a fabulous workout to deep CORE & GLOBAL muscles and muscular slings.
SOLO at home OR Studio or bring a friend to make a DUO!  Call 0402 666 056
EMAIL for more information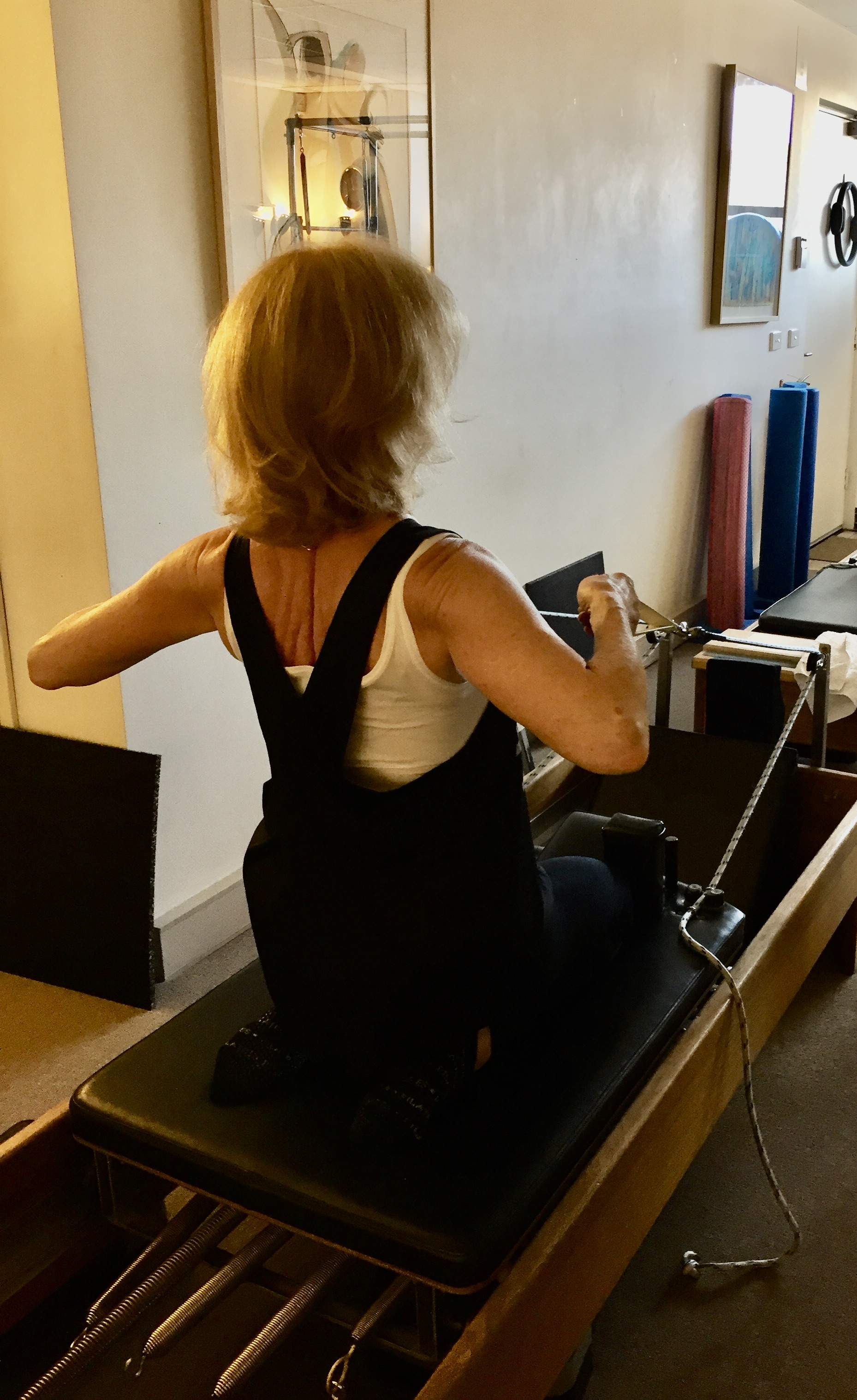 Strengthen those tired and sore, computer-desk upper back muscles, neck and shoulders with our seated and kneeling REFORMER work. Improve the strength of your arms and chest and rehabilitate rotator cuff injuries of the shoulder with the modulated spring loadings of the reformer.
Our COVID SAFETY protocols ensure equipment and environment are safe for all.
BOOK NOW          
ZOOM 
Book your online sessions now!
ONLINE  sessions will continue so you can also safely exercise from home with our large and small group specialised CLASSES, SOLO'S and INITIAL CONSULTS
 
WHAT'S NEW?
REHAB GURU – work from home with a program tailored for you. You get an online version of your exercise program and a free APP to download and use with easy to understand videos, photos, notes and a feedback channel. We can chat on the phone, on zoom or in studio to update your program. Call now 0402 666 056
HOME VISITS –  Solo, Duo, Trio sessions in your own home?  Your double vaccinated and  masked Instructor will bring your program to you. Call now 0402 666 056
MOVE MINDFULLY – Join us on ZOOM for a larger group movement, breathing and flow class. Challenge your CORE. Calm your nervous system and work at the pace that suits you. With years of experience as a dancer, movement therapist, teacher and Pilates instructor Lindy will challenge your deep musculature and bathe you in movement. You finish feeling stimulated and refreshed, stretched and aligned bringing mind and body together.
Call now 0402 666 056 or  BOOK HERE
MOVEMENT MEDICINE
Solo session on ZOOM working with a range of stretches you may or may not have come across before. Tension and release body parts to trigger healing and relaxation responses. Work with the whole body or target a particular area, for example head, neck and shoulders including self massage techniques to gently stimulate lymph drainage and relaxation, a great trick to learn if you are feeling blocked up.You'll feel clearer, more open and better able to manage stress. This session can be done at your desk or within the privacy of your own home. Call now 0402 666 056 or  BOOK HERE
BARRE @ HOME – Tone from head to toe with safe, ballet inspired exercises incorporating Pilates, Body Resistance and Yoga Stretching to sculpt and tone the whole body. No barre required.  ENQUIRE HERE
WE CAN HELP
If you are sitting at a computer feeling tired, sore and stiff;
If you need to exercise safely during and after pregnancy;
If you want to lift your fitness, enhance wellbeing or improve your game;
If you have an injury or need rehab after surgery;

Movement is  the 'new medicine'.
Guided sessions with a qualified professional will make a huge difference from day one. Let us help you re-find your smile, especially if it's been hiding due to persistent pain? 
If you haven't been moving much at all THE TRUTH IS any kind of moving, getting outside and walking, doing weights, Pilates, Yoga, anything that suits your body makes a remarkable difference to immediate and long term health as well as feelings of well being.
Move DAILY, a little, 5-10 min of stretching at minimum and you'll feel a difference! Be inspired by working with experienced and friendly instructors to help  build your strength and flexibility. We work the whole of you, with your muscles, fascia, skeletal system, circulatory system, breathing, organs, stimulating immune system.
ZOOM CLASSES – reminder is emailed to you with the ZOOM link 24 hrs before class.
A mat, a towel, pillows and a chair are the only essentials you'll need.
Pilates props are helpful but not essential, such as theraband, foam roller, balls & weights.
EXERCISE for strength, tone, rehabilitation and improved technique. Fitness challenges tailored to your goals. Therapeutic movement solutions to help resolve pain. Improved posture, breathing, immunity.
PREGNANCY
Safely exercise before and after your baby arrives to improve your general health and delivery. We are qualified and experienced to assist you with pelvic stability exercises, safe overall fitness and strength, pelvic floor concerns, diastasis recti (abdominal separation), groin and low back pain, posture, breathing and relaxation.
EQUIPMENT IN THE STUDIO
2 Cadillacs (Trapeze beds with roll-down and push-through bars)
2 Reformers
2 Wunder Chairs
Many Rollers, Fit Balls, Chi Balls, Therabands, Magic Circles and Loops
Smaller equipment including Spine Corrector, Arc Barrel
COVID SAFETY
If you are unwell, with cough or cold symptoms, inform us immediately, isolate at home, get tested as soon as possible and go online if you wish to do your classes for the isolation period. You won't be charged for a class cancellation as long as you let us know.